Get ready for an unforgettable experience. Our 1 hour demonstration session has been carefully constructed to deliver the following outcomes. You will learn about…
How SmartEvals goes the extra mile to produce the best survey response rates industry wide
How our myFocusTM tool supports faculty instructional development efforts.
How our reports deliver actionable insights into your data.
How to apply our innovative data analysis tools to solve your institutional research and assessment needs.
How SmartEvals integrates with other systems to reduce the burden on I.T. staff, while creating a seamless experience for students and faculty.
How our mission at SmartEvals will empower you to achieve your own institutional goals and objectives.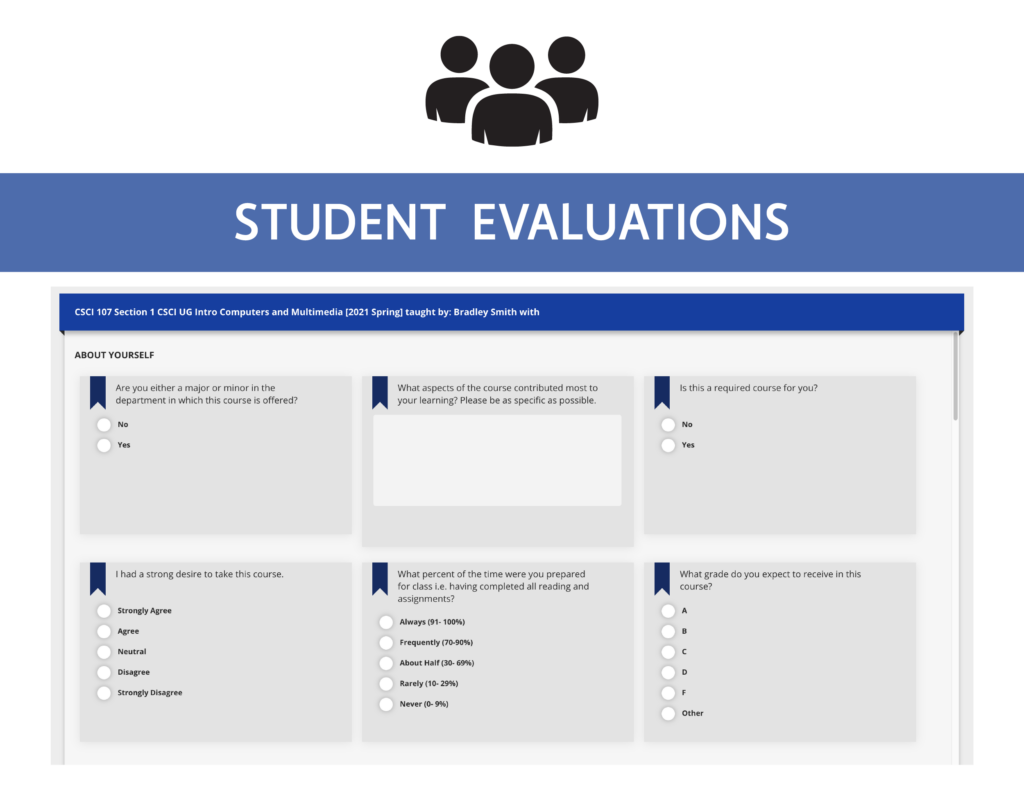 The "Student" Experience
Experience the course evaluations from the perspective your students. Viewable on Desktop and Mobile devices, see an example of different questions types, follow-up question technology, Multiple Instructor or Team Taught course surveys, and Cross-Listed / Cross Referenced courses.
---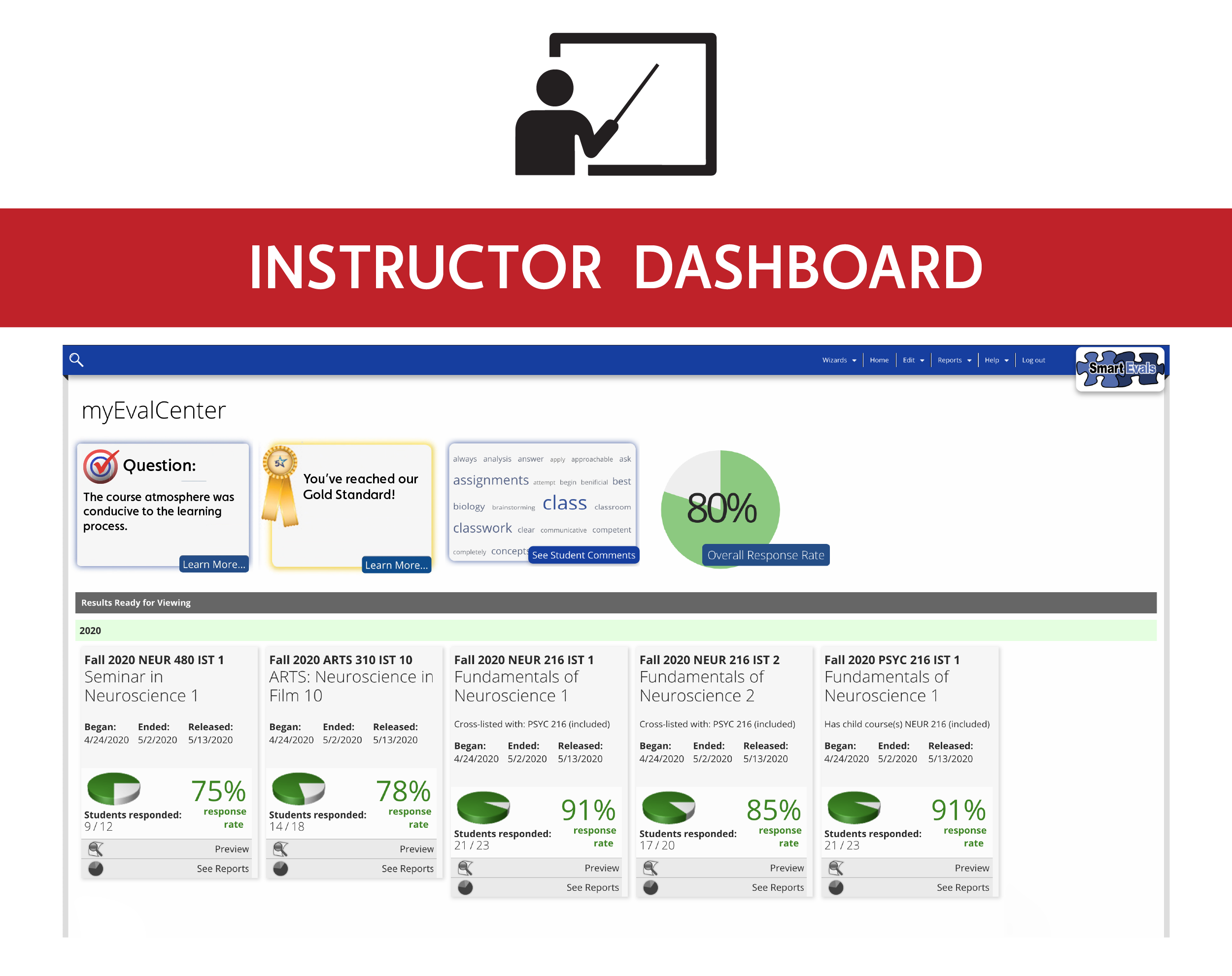 The "Instructor" Experience
Take a tour of myEvalCenterTM, the instructor dashboard with tools and key features to manage data from their courses. Instructors have access to myFocusTM, Real-time Response Rates, Eval Period information, and more…
---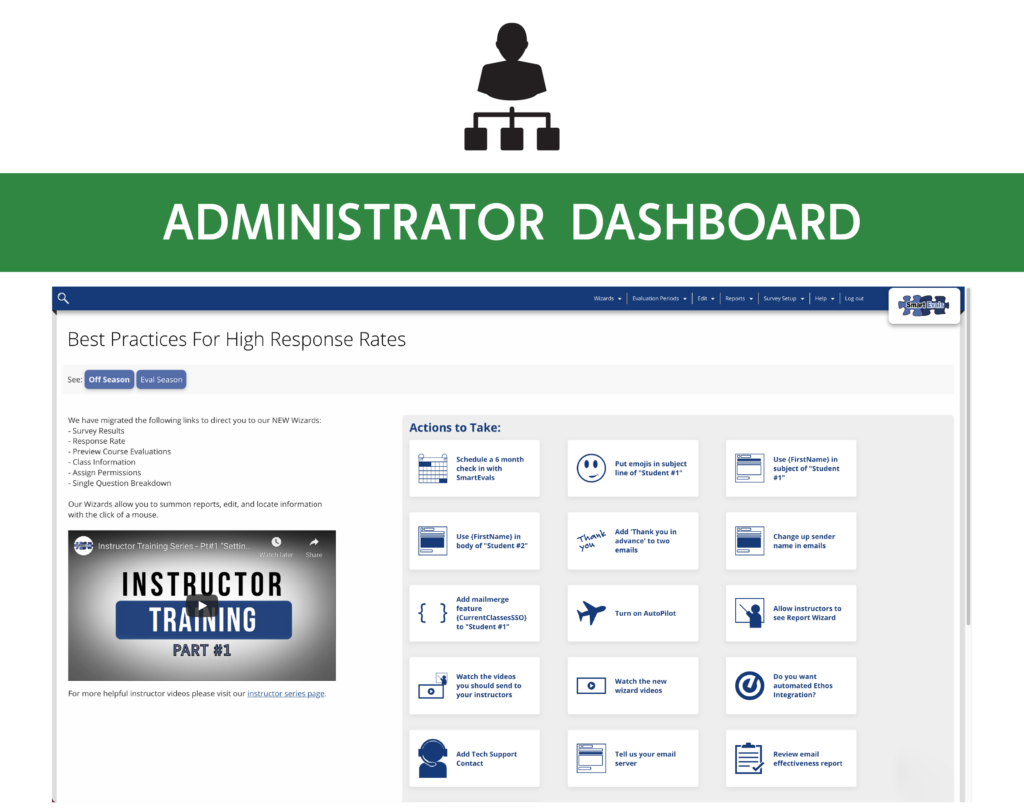 The "Administrator" Experience
Manage all data received from students and instructors. The Admin Dashboard makes it easy to complete complex tasks and with our variety of tools and key features, you'll be able to organize, view, and manage your data.
At SmartEvals,
We believe in bringing out the best in people.
We create environments that empower and educate.
Our systems improve teaching and help people achieve their goals.
We pledge that you'll leave this demo presentation informed and energized with fresh ideas for advancing your institutional mission.
To book your demo, click the button below and fill out the form.*
* By submitting this form, you give SmartEvals, LLC, consent to send you occasional marketing and/or newsletter emails, including (but not limited to) content regarding the demo you're requesting in this form; the data you provide here will only be used for these purposes, and will never be sold or given to a third party; you also understand that you may choose to unsubscribe from SmartEvals emails and thus effectively remove this consent at any time.