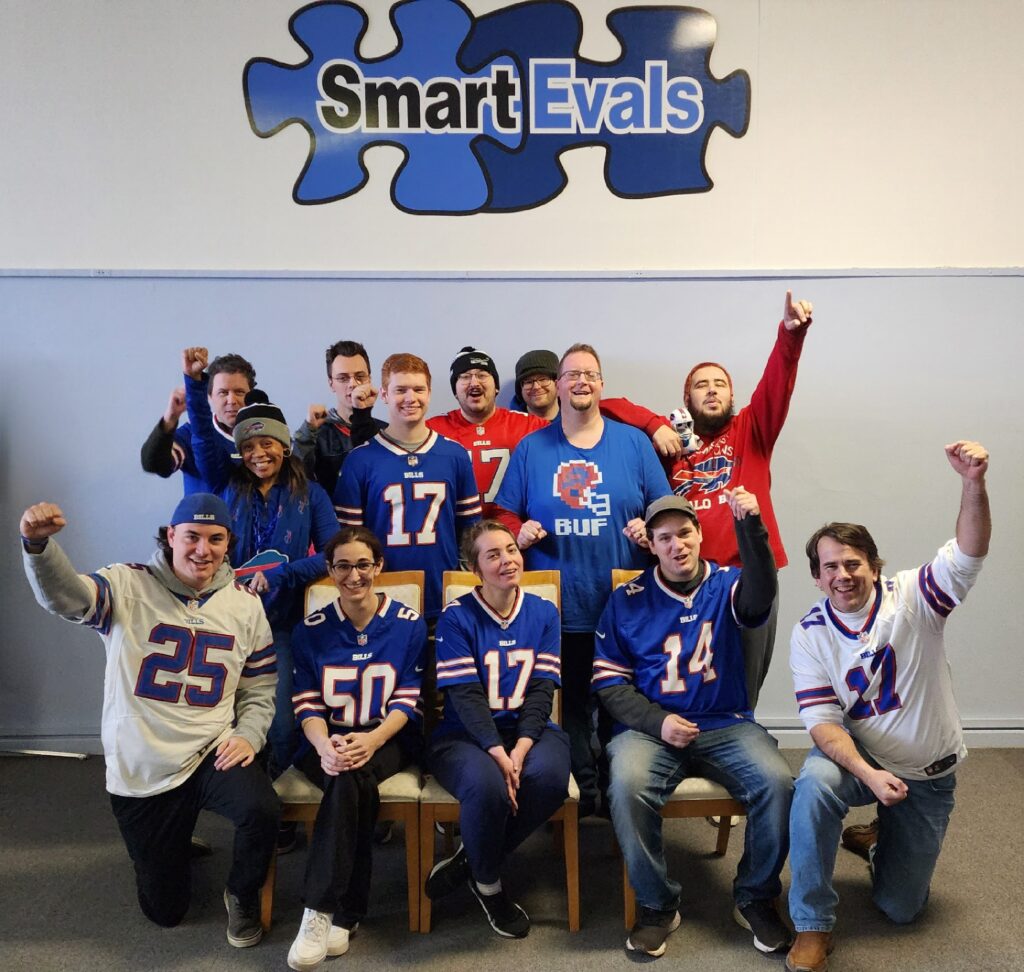 While many companies are outsourcing jobs overseas, SmartEvals is committed to a 100% domestic-based workforce and American-made product.
"If our country is going to stay a world leader, we are going to have to rely on American ingenuity and hard work," said Larry Piegza, President and CEO of SmartEvals. "That's why keeping every aspect of our company in the USA is part of our company mission."
In fact, SmartEvals is the ONLY course evaluation company completely based in the United States. From IT to customer support, SmartEvals runs the entire show at one office in Buffalo, New York (if you couldn't tell from the Bills jerseys).
But why is it important to buy American-made products?
1. Support Local Economy
When you buy American-made products, you are supporting local businesses and contributing to the growth of the American economy. This helps create opportunities and strengthen communities.
Buying American-made products and services means your hard-earned dollars remain in local communities. When companies choose to keep their workforce domestic, that equates to job creation – the same jobs college students will be looking for after graduation.
For every $1 invested in U.S. manufacturing, $1.81 is generated in economic activity.
2. Quality Assurance
American-made products are generally known for their quality and durability. This is because manufacturers are held to a high standard and must often adhere to strict safety and quality requirements.
While quality products are generally associated with a higher price tag, SmartEvals offers American quality at competitive pricing.
"As a service that is 100% developed and supported in the United States, SmartEvals is able to anticipate and respond to the challenges facing American colleges and universities," said Howard Walters, a Buffalo resident and SmartEvals employee.
3. Reduce Carbon Footprint
We are dedicated to protecting our precious environment and reducing our carbon footprint.
"SmartEvals is endorsed by the National Wildlife Federation as a true environmental leader, committed to regrowing fish and game populations as well as fighting climate change," said Kit Fischer or the National Wildlife Federation.
We have adopted more than 120,000 acres of land and are currently working with New York State to grow a forest.
However, our efforts are far from complete. In fact, our ambition is growing.
Last year, we were able to purchase and plant 1,200 trees to reforest 32 acres of land in Ripley, New York. This year, our goal is to plant 4,000 trees. Stay tuned for more information regarding this project in the coming weeks.
If your school is looking for a course evaluation solution that is committed to a domestic workforce, offers an American-quality product at competitive pricing, keeps dollars in local communities, and works for a cleaner environment for the next generation of college graduates, then you should SET IT and FORGET IT with SmartEvals!